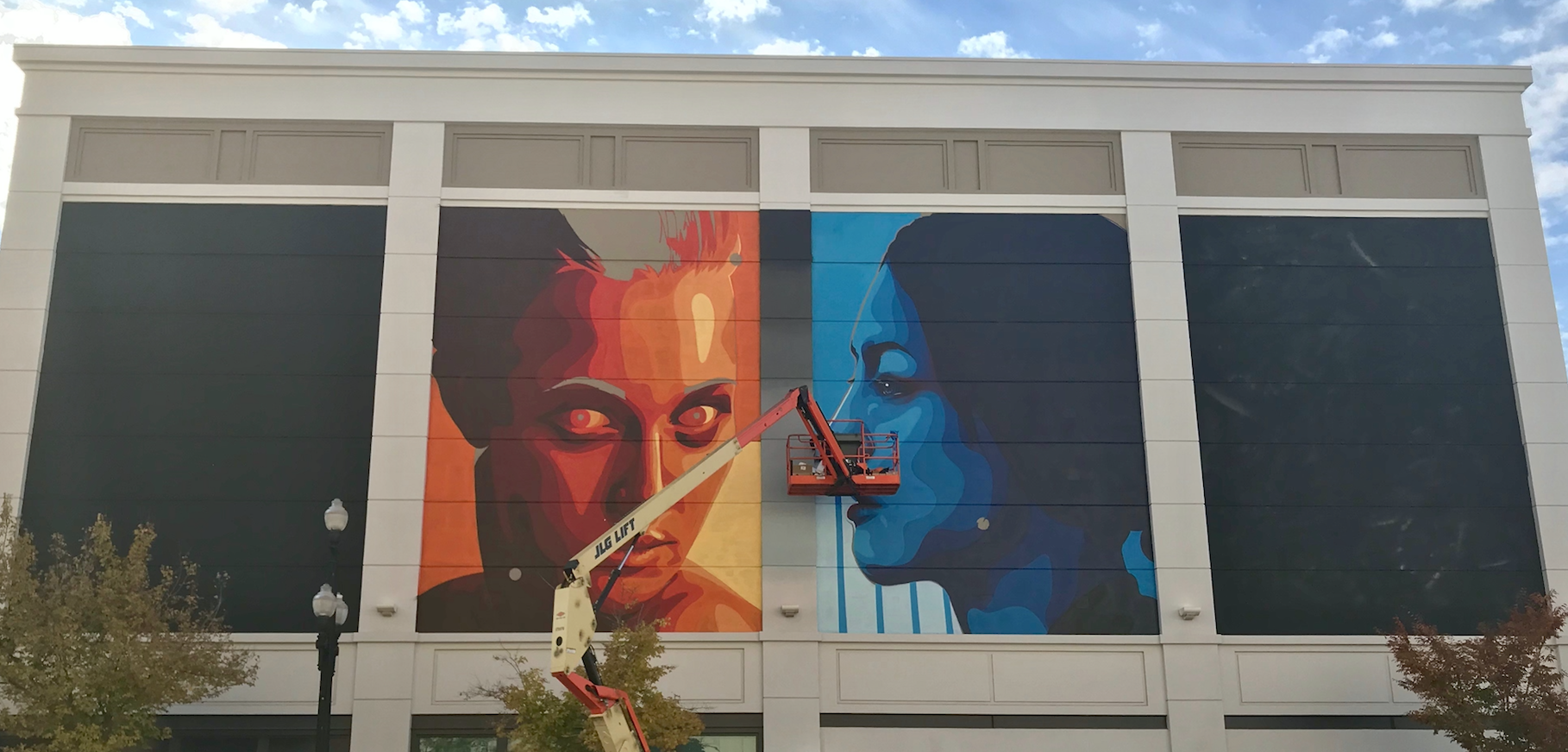 Oct 10
The Gateway Embraces Local Art Scene With Wall Murals And More From Internationally Renowned Artists
Murals from 2Alas and Dourone connect Salt Lake City to Paris, Havana, and Madrid as The Gateway builds Utah's largest outdoor art gallery
It's one of the biggest public art initiatives in Utah history. And as international art collectives 2Alas and Dourone put their finishing touches on their massive murals—one adorning the walls of the Clark Planetarium, and the other one looming above the Planetarium TRAX station on 400 West—The Gateway has begun building Utah's largest outdoor art gallery and redefining its role in downtown Salt Lake City.
"We're dedicating various areas of the property to mixed-medium art installations—digital, traditional, video, and vinyl," says Bergendi Hatch, Creative Director at Vestar. "As we continue to move away from a traditional 'mall' concept and into a place where people can experience something new, we're excited to bring in artists like 2Alas and Dourone to help redefine our space and our part of Salt Lake City."
2Alas is an arts collective comprised of New Yorker Andrew Antonaccio and Cuban-born Filio Galvez. As a leading force for public art in Miami, the two have worked on murals in Italy, Switzerland, and Puerto Rico. Their textured, cut up portraits offer a bold, modern interpretation of what it means to be human in a heavily mediated society.
Dourone, aka Fabio Lopez Gonzalo, started as a graffiti artist in Madrid, and has built a reputation for painting passionate, expressive murals all over the world in a style that has come to be defined as "sentipensante"—a contraction of the Spanish words "feeling" and "thinking." His pieces adorn heavily urbanized spaces and fill them with rich, expressive human elements in bright pops of color.
In addition to Dourone's "Two World Faces" on the Clark Planetarium wall at 100 South and 2Alas's "Loretta Young" on 400 West, more installations are being curated to be added in the near future, and into the spring. Having already installed a one-of-a-kind video tower in the Olympic Fountain square and working to bring in other internationally renowned artists to work in other other mediums, Hatch hopes the ongoing project will transform the public art scene in Salt Lake City.
"It's amazing to see the color and texture these pieces add to our landscape," says Hatch. "We're honored to have these artists share our vision. It's exciting to have people come and share in the experience, and embrace the flourishing art scene in Salt Lake City. A project of this scale isn't something Salt Lake has really had before and I look forward to seeing how the conversation continues."
These pieces are part of several art initiatives at The Gateway, which will be ongoing through Spring of 2018. With more large-scale installations from David Flores, Brendan Monroe, INSA, and Felipe Pantone, the curation will celebrate the history of the region, the exciting future ahead, and the connectivity of the downtown Salt Lake City community.
About The Gateway
The Gateway is an eclectic, mixed-use shopping destination located in the heart of Salt Lake City. With unique shops, restaurants, and amenities—including Wiseguys Comedy Club, Larry H. Miller Megaplex Theatre, The Depot, Discovery Gateway Children's Museum, and Clark Planetarium—The Gateway continues to serve as an important and thriving part of the Salt Lake renaissance.